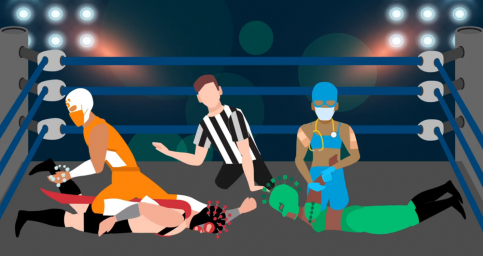 1/4: We're Luchadores!
Podcast: Play in new window | Download (Duration: 24:20 — 18.5MB)
Subscribe: RSS
A new campaign by Latinx En Accion and The Tacoma-Pierce County Health Department posits that we are as powerful as luchadores, fighting against the rotten foils COVID and Flu, and that masks are awesome!  This Daily Briefing also includes the Reporte Semanal de COVID in Spanish. 
PERENNIAL RESOURCES
State-level updates on COVID-19 can be found online in multiple languages at

coronavirus.wa.gov

.

Dialing 311 will get you to the City of Tacoma's non-emergency information line.

The state's Coronavirus Q&A line is staffed 7 days a week, 6am-10pm, at 1-800-525-0127. For interpreters in other languages, press # when they answer and say your language.

You can also text the coronavirus Q&A line at 211-211 in any language.

Dialing 211 will connect you to community resources statewide through United Way, and you can also visit wa211.org online.

Many resources are available for adults and youth experiencing distress, as well as those caring for anyone experiencing emotional distress.

The "Washington Listens" support line for managing stress and getting referrals for behavioral health services is 1-833-681-0211.

The Suicide Prevention Lifeline phone number is 800-273-8255 for English, o en espanol: ocho ochenta y ocho, seis veintiocho, noventa y cuatro, cincuenta y cuatro 1-888-628-9454

The Crisis Text Line provides confidential text access from anywhere in the U.S. to a trained crisis counselor when you Text HEAL to 741741. If you text FRONTLINE to 741741, you'll be connected with a crisis counselor trained to help frontline workers in the fight against COVID.

Teens can call or text the Teen Link number at 866-833-6546

And individuals struggling with substance use or addiction can call or text the WA Recovery Help Line at 366-789-1511
STATE
According to the state's vaccine advisory committee, facilities and providers administering vaccines will rely on recipients' honesty and will not be expected to police who qualifies.

Recipients would present screenshots or printouts of their questionnaire results at vaccination sites.

The state is also expected to provide letter templates for employers to vouch for workers' eligibility.

COVID-19 vaccine information can be found online at

DOH.wa.gov

or by calling the state's coronavirus hotline at 1-800-525-0127.

Several new laws have taken affect as of January 1st:
REGIONAL
The Tacoma Pierce County Health Department reported 164 new COVID 19 cases today. There were 189 cases on Sunday, 311 cases on Saturday, 437 cases on New Year's Day, and 414 cases on New Year's Eve.

The County's average cases per day over the last 2 weeks is 262, and with a 6-day lag to account for data accuracy, the case rate per 100,000 people is 367.

UW Medicine is now enrolling volunteers for a phase 3 clinical trial of the Novavax vaccine

Researchers especially want to enroll volunteers from underserved and disproportionately impacted communities, which include members of Black, Latinx, Pacific Islander, and Native American communities.

Volunteers 18 and older can learn more or enroll be visiting

https://UWvteu.org

|UWvteu.org]], or calling 206-520-4212.
TACOMA
Mary Bridge Hospital WIC offices in both Tacoma and Puyallup offer free routine childhood immunizations and flu vaccines, by appointment, as part of the The Washington Vaccines for Children Program for kids under 19 years of age.
TESTING SITES
There are numerous free COVID-19 testing sites in our region:

Tuesday, Jan 5th: University of Puget Sound in North Tacoma, Tacoma Nazarene Church at 3640 S. M St, EB Wilson Apartments at 1202 S. M St in Hilltop.

Wednesday, Jan 6th : Asia Pacific Cultural Center in South Tacoma, and the Lakewood: State Emission Inspection Station

Thursday, Jan 7th: Sixth Avenue Apartments located at 2302 Sixth Ave in Tacoma, Charles Wright Academy, near University Place, and State Emission Inspection Station in Lakewood.

Friday, Jan 8: Bay Terrace Apartments at 2550 South G St., and State Emission Inspection Station in Lakewood.

Saturday, Jan 9: Tacoma MetroParks Vassault Park, Eatonville Middle School, Fort Steilacoom Park, and the State Emission Inspection Station in Lakewood.

No ID is required, tests are free and open to anyone, and most testing runs 10am-3pm, but check TPCHD.org for specifics

Results are available in 3-7 days

Bonus: Some COVID test sites are also doing free adult flu shots too!

A new program even arranges for a test to be delivered to you if you have mobility issues or trouble getting to a test site.